//Dutch below//
The Danger of Occupied Ivicke
Why does the municipality of Wassenaar consider our residency at Ivicke to be a "danger"? And what exactly are we endangering? Here, I will give these questions some space, that necessarily lead us back in time.
In January 2019, Ivicke's owner requested the municipality to enforce the bestemmingsplan (zoning plan), which was rejected a few months later in June. The municipality justified this decision by pointing out that our eviction would constitute a danger to public order given the owner's lack of a plan for the building – that is, more vacancy could lead to a second act of squatting.
[Sidenote: The notorious bestemmingsplan is the bureaucratic destiny of Ivicke which was changed to an office function in the 1980s from its original purpose as residency. Thereafter, antisquat companies, hired by the current owner, made use of some rooms, which moves in a legal grey area but is tolerated due to its corporate nature and temporary status. While our residency is quite certainly of a temporary nature as well, the bestemmingsplan has been used as a strategy to evict the "danger" we pose by both the owner and the municipality.]
Back in time: The owner's lawyer appealed on 29th of July, which was received on the 31st of July by the municipality – interesting timing, as the mayor got to know about the upcoming No Border Camp (NBC: 01.08.-04.08.) on the 30th of July. The NBC is an international gathering with workshops and actions, that inform about and act against the inhumane migratory policies of EU-states, and that aim to connect struggles in other parts of the world. Here, we pause in time because those days were packed with legal procedures and political struggles.
After the owner's lawyer was informed about our plans with the terrain, she took the municipality to court in order to force them to prohibit the upcoming camp. When the judge didn't grant her will, she went in appeal hoping that another judge would forbid the – at that point – ongoing camp. Luckily, this didn't happen and the NBC proceeded. It is however interesting to investigate the lawyer's justification for this legal upheaval. Her main argument emphasised the potential harm that the activities during the camp could cause to the monument. Her concern is quite ridiculous, as she is representing the person – Ronnie van de Putte – that has remorselessly observed the gradual degradation of the monument and not taken any steps to prevent its eventual destruction.
While this hypocrisy is underlying her argument, it is also factually fragile – given that the NBC didn't actually make use of the monumental building. The camp took place outside: guests were camping in the garden where they also had access to cooking and sanitary facilities, while discussions and workshops were organised in big tents outside – the building was exclusively used as storage space. We can thus conclude that the monumental value was clearly not endangered.
Moreover, we didn't hear any such concerns on the 17th and 18th of May when we hosted a music festival in our basement and concert hall. That event took place largely inside the building with a comparable amount of guests as the NBC.
One could now wonder why neither the owner nor the municipality expressed their concerns over the building's monumental value back then… The press reported positively: "the squatters didn't harm a fly" – we were portrayed as peaceful, well-meaning people, and the event could proceed without any interference by either the owner or the municipality. In news coverage and council meetings, the enforcement of renovating actions against the owner were prioritized over our departure. During the No Border Camp, however, we were portrayed as a danger to the building, the neighbours, and the public order of Wassenaar. So why did the reactions to the two events differ so significantly?
There can only be one reason – the No Border Camp was political. The political character of the event rather than the danger to the monument was problematic. The owner and the municipality were threatened by the danger of a counter-narrative to the established order and didn't consider an action camp, also referred to as a demonstration (during the court case), to be appropriate for the monument. The municipality saw it as a danger for the public peace in the town, where the richest people of the Netherlands live – and where the unfair distribution of wealth is most obvious.
During the event, we experienced that the NBC had been categorised as a "danger", as the authorities didn't hold back with extraordinary surveillance: they installed a camera pointing to the gate that made every passing face and license plate recognizable to the authorities – which is clearly a violation of the right to privacy. As if that was not enough, the police and representatives of the municipalities came to control us every day. On the last day of the No Border Camp, ten riot police vans from The Hague came to intimidate us following a demonstration against NATO.
We were also visited by a supposed journalist from Wassenaar's newspaper whom we invited onto the terrain until we recognized his true identity: he turned out to be Laurens van Doeveren – the head of the VVD in Wassenaar. In fact, Van Doeveren committed identity theft and his visit led to several wrong statements (e.g. the state of the building has further deterioriated since it has been squatted). Indeed, the news coverage surrounding the NBC followed the pattern of demonising the camp, its organisers and its hosts, whilst dramatising the potential danger of our residency.
Van Doeveren was also the one who requested (together with the CDA) that our eviction be discussed in the upcoming meeting of the municipality. The discussion took place on the 17th of September and caused heated debates. While all politicians wanted to get rid of us as soon as possible, they were nevertheless divided on some of the proposal's spicy details. VVD and CDA suggested to remove banners, signs and flags from the terrain – thus to limit our freedom of expression. This illustrates nicely to what extent VVD and CDA perceive (the articulation of) our ideology as a threat – it must not be visible and it doesn't fit with "this beautiful monument". Some politicians considered this plan of action too far-fetched and it was eventually cancelled. A lot of emphasis was placed on the halting of Ivicke's degradation but nobody mentioned concrete actions in relation to the owner. The politicians agreed that we didn't belong in the future of Ivicke but that we did fulfil a function until our eviction – we are, after all, maintaining the building in opposition to the owner.
While the words printed in newspapers and leaving politicians' mouths may be considered empty – reactionary propaganda that was to be expected – the real twist occurred in the municipality's strategy toward our residency. If you remember the beginning of this article, they had refused to enforce the owner's request to enforce the bestemmingsplan (a.k.a. The procedure for our eviction on the grounds of the building's destination). Following the above-mentioned council meeting, the municipality revoked their original decision and decided to enforce the bestemmingsplan – they considered the NBC to be too much of a provocation for the established order in Wassenaar, where many of the winners of capitalism live. While they emphasized the danger to the monument, they actually feared political diversity and activism – in the words of Laurens van Doeveren: "Wassenaar is not a left municipality after all".
Our critique of capitalism, and specifically of property (speculation), is not welcome. Nevertheless, or precisely for that reason, we shall continue the struggle for our right to calmness and joy in our home and against the dishonest distribution of property and wealth.
For the continuation of this story, check the other articles that trace the more recent development of the tensions in the triangle of the owner, the municipality and us…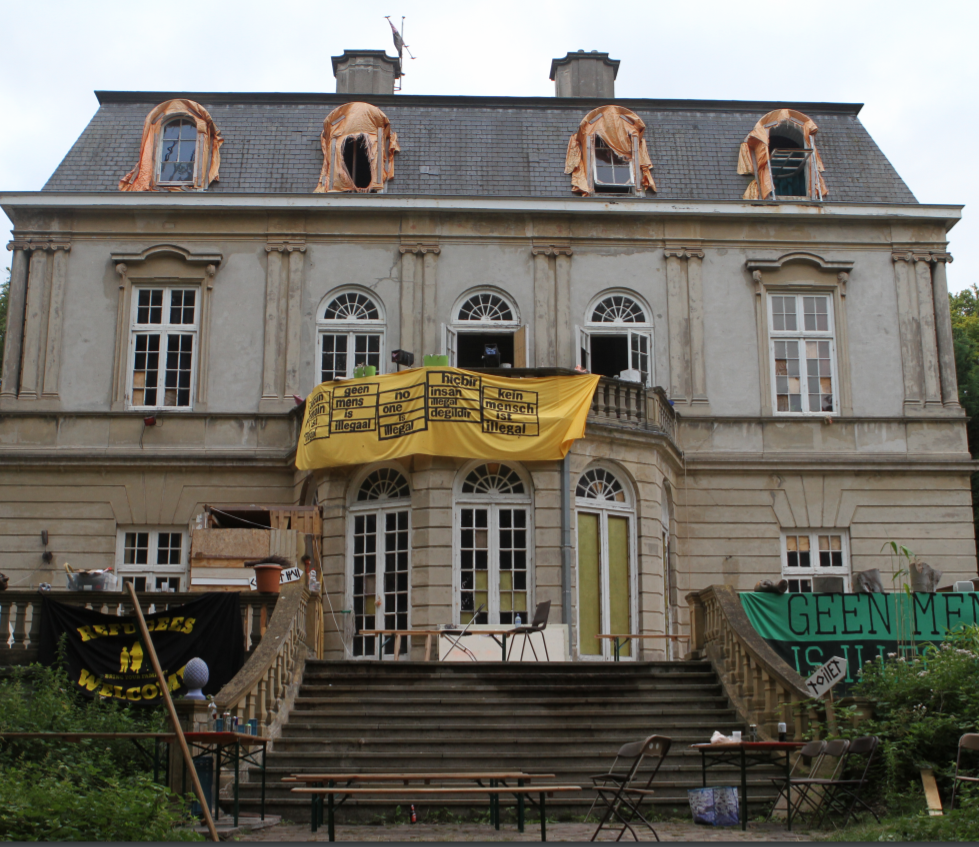 Het gevaar van het bezette Huize Ivicke
Waarom wordt onze bezetting van Ivicke als gevaar gezien? En wat is het dan precies dat wij in gevaar brengen? Hier zal ik deze vragen wat ruimte geven en dat leidt ons noodzakelijk terug in tijd.
In januari 2019 vroeg de eigenaar aan de gemeente om het bestemmingsplan te handhaven – een aanvraag die in juni afgewezen werd. De gemeente noemde als redenen het gevaar voor de publieke orde in het geval van een ontruiming en het gebrek van renovatieplannen van de eigenaar, waardoor dus herhaald leegstand tot een herkraak zou kunnen leiden.
[Kanttekening: het bestemmingsplan is het bureaucratische lot van Ivicke. In de jaren 1980 werd de bestemming van Ivicke van een woonruimte tot een kantoor veranderd. Daarna hebben door de eigenaar ingehuurde antikraakbedrijven wel gebruik gemaakt van sommige kamers – een juridische grijze zone, eigenlijk illegaal maar getolereerd, omdat een bedrijf eraan verdient en omdat het tijdelijk is. Terwijl ons gebruik hoogstwaarschijnlijk ook van tijdelijke aard zal zijn, hebben zowel de eigenaar als ook de gemeente het bestemmingsplan als strategie gebruikt om ons uiteindelijk te ontruimen.]
Terug in de tijd: De advocaat van de eigenaar ging in beroep tegen de beslissing van de gemeente op 29 juli, en dit is door de gemeente op 31 juli ontvangen – een spannende timing, want de burgemeester kwam over het geplande No Border Kamp op 30 juli te horen. Het No Border Kamp is een internationale bijeenkomst, waar workshops over het onmenselijke migratiebeleid en strijden in de hele wereld informeren en acties worden gedaan (door bijvoorbeeld bedrijven die bij het migratiebeleid betrokken zijn te noemen en te schamen).
Hier zullen we pauzeren, want deze dagen zaten vol met legale procedures en politieke strijd.
Nadat de advocaat van de eigenaar door de gemeente over het NBK was geïnformeerd, begon ze een rechtszaak tegen de gemeente om haar te dwingen het kamp te verbieden. Toen de eerste rechter er niet mee eens was, ging ze in beroep, maar ook de tweede rechter vond dat het toen gaande NBK mocht doorgaan. Het is interessant om de argumenten tegen het NBK te onderzoeken. De advocaat had het voornamelijk over de potentiële schade aan het rijksmonument die de activiteiten tijdens het kamp zouden kunnen veroorzaken. Dit is best belachelijk, aangezien ze de eigenaar vertegenwoordigt die sinds jaren zonder schaamte de verkrotting van Ivicke heeft getuigd zonder enkele actie tegen haar uiteindelijke vernietiging te ondernemen.
Dit argument is dus duidelijk hypocriet, maar het is bovendien feitelijk zwak – aangezien het kamp buiten plaatsvond: bezoekers kampeerden in de tuin, waar ook sanitaire en keuken faciliteiten aanwezig waren, discussies en workshops vonden in tenten in de tuin plaats; het gebouw werd uitsluitend als opslagruimte gebruikt. De monumentale waarde was dus duidelijk niet in gevaar.
Daarnaast hoorden we niets dergelijks op 17 en 18 mai toen een muziekfestival in onze kelder en de concertzaal was georganiseerd. Dit evenement vond bijna uitsluitend binnen plaats en het aantal gasten was vergelijkbaar met het NBK.
Je zou je nu kunnen afvragen waarom toen noch de eigenaar noch de gemeente naar het gevaar van de monumentale waarde van het gebouw wezen… Zelfs de berichtgeving door de pers was positief – "de krakers deden geen vlieg kwaad", en het evenement kon zonder verstoring door de eigenaar of de gemeente doorgaan. In kranten en raadsvergaderingen werd de aanpak van de eigenaar en zijn gebrek aan renovatieplannen besproken en niet de aanpak/ontruiming van "de krakers".
Tijdens het NBK werden we echter als gevaar voor het gebouw, de buren en de publieke orde van Wassenaar neergezet. Waarom verschilden de reacties op deze twee evenementen zo erg??
Er kan maar een reden zijn – het No Border Kamp was politiek. Het politieke karakter van het evenement was het probleem en niet het gevaar voor het rijksmonument. De eigenaar en de gemeente zagen eerder een gevaar voor de gevestigde orde en vonden dat een actiekamp, ook genoemd een demonstratie (tijdens de rechtszaak) niet passend was voor het rijksmonument in Wassenaar. De gemeente vond het een bedreiging voor de publieke orde in de stad waar de rijkste mensen van Nederland wonen – en de oneerlijke verdeling van eigendom en rijkdom het duidelijkst is.
Tijdens het NBK voelden we dat het evenement als gevaar werd gezien, want de autoriteiten schuwden niet om buitengewone bewaking toe te passen: ze installeerden bijvoorbeeld een camera die op het hek was gericht – elk gezicht van mensen en elk kenteken van voertuigen die naar binnen of buiten gingen kon dus herkend worden – duidelijk een schending van het recht op privacy. Bovendien kwam de politie en autoriteiten van de gemeente regelmatig langs. Op de laatste dag kwam zelfs de ME uit Den Haag met tien bussen om ons te intimideren (als reactie op een demonstratie bij NATO).
We kregen daarnaast ook bezoek van een journalist van de Wassenaarse krant die we op het terrein lieten totdat we de ware identiteit van de gast herkenden – het was in werkelijkheid de fractievoorzitter van de VVD, Laurens van Doeveren. Ook hier moeten we even pauzeren. Dit is identiteitsdiefstal en het bezoek onder foute voorwaarden leed bovendien tot allemaal foute uitspraken (bijvoorbeeld: "de staat van het pand is achteruit gegaan sinds dat het gekraakt is"). De berichtgeving rond het NBK volgde hetzelfde patroon, waar het kamp gedemoniseerd en het gevaar overdreven werd.
Van Doeveren was ook degene die (samen met CDA) de motie "aanpak krakers/ontruiming Ivicke" voor de volgende vergadering van de gemeente indiende1. De vergadering vond op 17 september plaats en zorgde voor hevige discussie. Terwijl alle politici zo snel mogelijk afscheid van ons wilden nemen, waren de raadsleden alsnog verdeeld over de motie die pikante details bevatte. Zo stelden VVD en CDA voor om spandoeken, borden en vlaggen op het terrein te verwijderen – om dus onze vrijheid van meningsuiting te beperken. Dit laat goed zien in welke mate VVD en CDA (de uiting van) onze ideologie als bedreiging waarnemen – het mag niet zichtbaar zijn en hoort niet bij "dit prachtige rijksmonument". Deze opdracht vonden sommige raadsleden wel te ver gaand en werd uiteindelijk geschrapt. Veel nadruk werd gelegd op het tegenkomen van de verkrotting van Ivicke maar de aanpak van de eigenaar werd op dit moment niet duidelijk besproken. De raadsleden waren het met elkaar eens dat de toekomst van Ivicke zonder ons moest verlopen maar dat we tot de ontruiming nog een functie vervullen – we zijn ten slotte met het onderhoud bezig in tegenstelling tot de eigenaar.
Terwijl de woorden uit de kranten en de monden van politici als verwachte, reactionaire propaganda kunnen worden gezien, kwam de reële wending in de strategie van de gemeente tegen ons verblijf. Als je je aan het begin van dit artikel herinnert, had de gemeente de aanvraag van de eigenaar om het bestemmingsplan te handhaven afgewezen. Na de bovengenoemde raadsvergadering herriep de gemeente haar oorspronkelijke beslissing – het NBK was een te grote provocatie voor de gevestigde orde in Wassenaar, waar vele winners van het kapitalisme wonen. Terwijl ze het gevaar voor het rijksmonument benadrukten, zijn ze in werkelijkheid bang voor het gevaar van politieke diversiteit en activisme – in de woorden van Laurens van Doeveren: "Wassenaar is toch geen linkse gemeente".
Ons kritiek op het kapitalisme en op vastgoedspeculatie is niet welkom.
Niettemin – of precies daarom – zullen wij doorgaan met de strijd voor ons recht op rust en vreugd in ons thuis, en tegen de oneerlijke verdeling van eigendom en rijkdom.
Als je geïnteresseerd bent in de voortzetting van dit verhaal, kijk dan naar de artikelen die de meer recente ontwikkelingen volgen over de spanning in de driehoek van de eigenaar, de gemeente en ons.