In 2019 Ivicke hosted a no border camp, this event was organised by people all over the country.
Since the no-border.nl website seems to be down we are posting our callout and info here!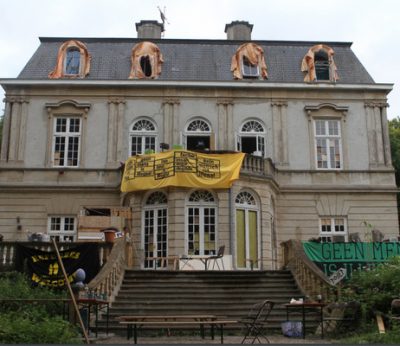 The callout of the noborder camp: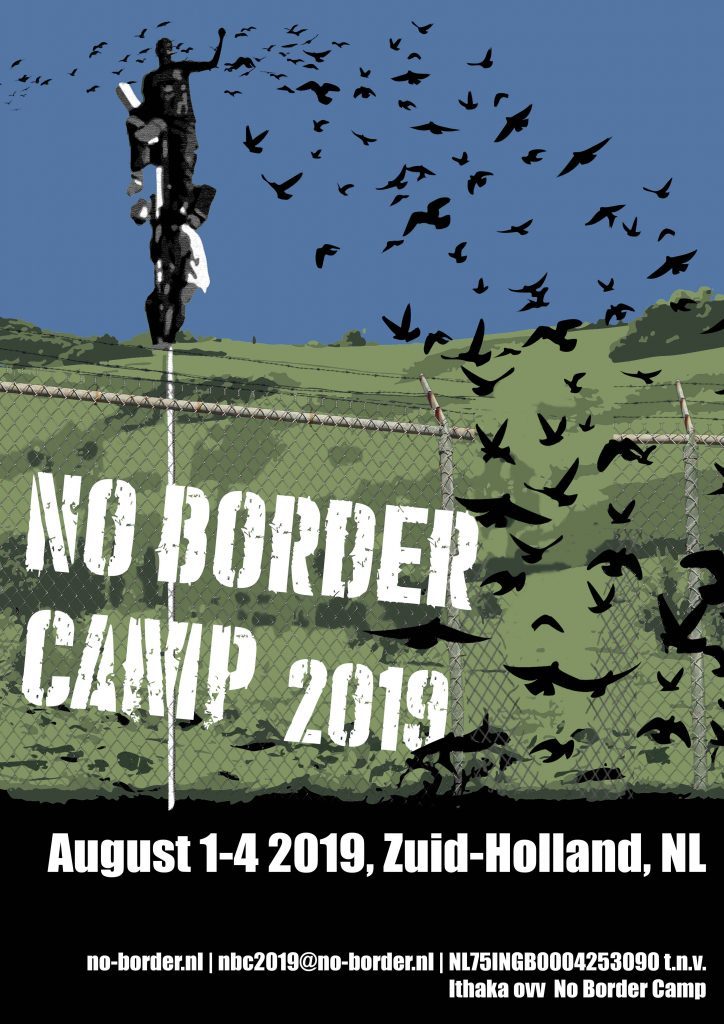 From August 1 until August 4 there will be a No Border camp in the Zuid-Holland province.
Restricting migration is a priority for the Dutch government and the EU. The walls of Fortress Europe are rising taller, rescue-missions by aid organisations are counteracted, and refugees are
locked up and deported. Thousands of people die in the Mediterranean Sea or in the desert, or they are stuck in horrible conditions. Politicians instigate hate against refuguees, while weapons-companies are in the mean time making big money on militarising borders. Rich Western countries keep fueling the
reasons why people flee through unequal trade, weapon exports, causing climate change, and military interventions.
Reason enough to take action. Come to the No Border Camp in the beginning of August, for workshops, meeting people and actions on a extraparliamentary and anti-authoritarian basis. To
build bridges to other intersections of struggle, like anti-racism, decolonisation, queer- and trans struggle, climate action, anti-militarisation, and the struggle of migrants themselves for their rights.
For more information or if you want to help, see no-border.nl or send an e-mail to nbc2019@no-border.nl. For financial contributions, please transfer to NL75INGB0004253090 for Ithaka, mention No Border Camp 2019 in the notification section.
The No Border Camp 2019 will take place in Zuid-Holland the Netherlands. The location will be published a week before the camp due to security reasons.
Recap of the no border camp:
from: https://noborder.blackblogs.org/2019/08/04/geslaagde-no-border-camp-actie-op-terrein-navo-en-tno-in-den-haag/
Geslaagde No Border Camp actie op terrein NAVO en TNO in Den Haag
Vandaag is er actie gevoerd op en rond het terrein van TNO en de NAVO Communications and Information Agency in Den Haag (Oude Waalsdorperweg 61-63). De acties zijn een protest tegen de betrokkenheid van de NAVO en TNO bij het militariseren van grenzen en het bijdragen aan redenen waarom mensen moeten vluchten.
Er is gedemonstreerd bij de hoofdingang van NAVO. Daarbij zijn spandoeken getoond (met teksten als: NATO kills, Refugees Welcome en From Borders to Bombs) en is geflyerd. Daarnaast lieten zij het geluid van de vlakbij gelegen klok op de Waalsdorpervlakte horen, afgewisseld met het voorlezen van de lange lijst met vluchtelingen die zijn omgekomen als gevolg van het Europese migratiebeleid. Terwijl mensen voor de poort demonstreerden en leuzen riepen, wist een groep van elf andere activisten over het hek te klimmen en op het dak van NAVO te komen. Vanaf het dak hebben zij twee spandoeken laten zakken, waarop stond "Migranten sterven door NAVO", en "Geen mens is illegaal". Vanaf een nabijgelegen fietsbrug over de weg hebben mensen een spandoek gehangen, dat de politie al na enkele minuten verwijderd heeft. Hierop stond "Migranten sterven door NATO en TNO".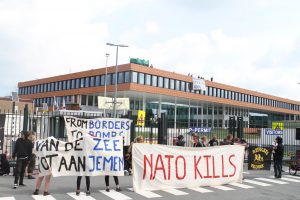 De politie trad erg repressief op en heeft tot dusver 18 mensen gearresteerd. Al in de vroege morgen zijn een aantal mensen opgepakt die zich op of rond het terrein van TNO bevonden. De demonstratie voor de poort werd gesommeerd zich daar te verwijderen, anders zouden ook zij gearresteerd worden. Deze groep is omsingeld en uiteindelijk onder politie escorte van het terrein verwijderd. De mensen op het dak van NATO zijn zeer hardhandig gearresteerd door een arrestatieteam, een gemaskerd en zwaar bewapend team.
Er kan teruggekeken worden op een zeer geslaagde actie. Het No Border Camp is verontwaardigd over het harde politieoptreden en eist de onmiddellijke vrijlating van alle arrestanten, zonder aanklacht. De actie die vandaag is gevoerd was een rechtvaardige demonstratie tegen het moorddadige Europese grensbeleid waar TNO en NAVO medeplichtig zijn door hun betrokkenheid bij het militariseren van grenzen en het bijdragen aan redenen waarom mensen moeten vluchten.
Local newspaper also wrote about us: The Danger Thats Called Ivicke:
https://www.wassenaarders.nl/2019081010708/wassenaarders-aan-het-woord/no-border-conferentie-op-wassenaarse-bodem-het-gevaar-dat-ivicke-heet#disqus_thread